Winter Storm Warning - Boone (Iowa) In Effect ... [Click here for more]

Updated:

17-Jan-2020 @ 8:35pm

Temperature
Current Conditions
Forecast / Storm Prediction

Currently Outside:



27.5°F



Wind Chill:

21.4°F




---



High Today


27.5°F


8:32 PM
Low Today


5.2°F


1:05 AM
Yest High


10.8°F


2:49 PM
Yest Low


-3.5°F


7:43 AM
Sta* High


45.0°F


2015
Sta* Low


-8.3°F


2016
* This Station's Records Since 6/2010

Night time, Dry, Overcast




Wind:

SSE




5.4


Gusting to:


6.0 mph

Snow3:


0.00 in

Current CBI
Fire Danger:


-2.6

of 100


Tonight


Freezing Drizzle

Saturday


Areas Of Blowing Snow

Saturday
Night

Patchy Blowing Snow then Mostly Clear

Lo

17 °F ↑

Hi

20 °F ↓

Lo

-6 °F ↑

Dew Point
Liquid Precipitation
Wind Speed
Sun/Moon

Current:

26.5°F

Last Hour:

1.1°F

High 8:32 PM:

26.5°F

Low 1:05 AM:

0.6°F

Record High:

83.5°F on


8/4/2016
Record Low:

-27.2°F on


1/30/2019
Wetbulb:

27.2°F

Rain Today



Melt Today:

0.00 in

Yesterday:

0.00 in

Last 7 Days:

0.01 in

Jan Rain:

0.07 in

Jan to Date
Avg:10

0.00 in

Jan to Date
Diff from Avg:10

0.07 in

Jan Avg:

0.58 in

Diff from Avg:

0.51 in

Season:1

0.07 in

YTD
Avg:11

0.00 in

YTD
Diff from Avg:11

0.07 in

Last Rain
Time/Date:
1/13/2020
at 2:14 PM
4 rain days in 2020
4 days in January
4 days since last rain

Current:

SSE

5.4 mph

1Hr Average:

6.9 mph

Wind Run:

157.59 miles

Wind Gust
Current:

6.0 mph mph

Today:

25.3

mph

4:14 PM

Month:

31.1 mph

Jan-10
Year:

31.1 mph

Jan-10
Record Gust:

176.0 mph


4/2/2016

Sunlight:


9 hrs 33 min
of Sunlight Today


39.8%

60.2%


Which is
1 min 43 sec Longer
Than Yesterday


2%


Illuminated

Humidity
Barometer

Current:

96

%
Last Hour:
1%
High 7:27 PM:
96%
Low 12:00 AM:
81%
Record High:
100%
1/8/2012
Record Low:
15%
4/11/2014

Current:

30.014 inHg

Last Hour:

Falling slowly

High 12:00 AM:

30.817 in.

Low 8:14 PM:

30.014 in.

Record High:

31.110 inHg


1/7/2015
Record Low:

24.436 inHg


4/2/2016

Heating Degree Days
Snow3
Wind Chill

Today:
46.4
Jan:
658.9
2020 to Date:
658.0
Cooling Degree Days
2020 to Date:
0.0

Today:

0.00 in

Yesterday:

0.00 in

Jan Snow:

3.80 in

Jan Avg:

4.69 in

Diff from Avg:

-0.89 in

Season Total:2

10.50 in

Snow Depth:

0.00 in

2 snow days in January
6 snow days this season.2
First Snow of Season:
//
Average 1st Snow:


Current:

21.4°F

Low

2:23 AM

:

-8.6°F

Yesterday:

-18.8°F

Record:

-44.5°F


1/30/2019

UV Summary/Forecast
Solar Summary

High Today:

0.7 @ 12:29 PM

Jan-18

1.9
Jan-19

1.5
Jan-20

1.6

High Today:
116 W/m2 @ 2:39 PM
Sun Hours Today:


00:00


This Month

: 24:45 Hrs

Rise: 7:39 am Set: 5:12 pm

Almanac
Irrigation Index5
Station All Time Records
Outlook

Currently:
Evening
YTD Avg Temp:

26.2°F

Sunrise:
7:39 am
Sunset:
5:12 pm
Moonrise:
1:30 am
Moonset:
12:28 pm
Full Moon:
0/January/2020
New Moon:
21:43 UTC
0/January/2020

Updated at Midnight
Current ET:

0.02 in

7-Days Rain:

0.01 in

7-Days ET:

0.06 in

7-Day:

0.051 in

January:

0.15 in

Support this Site!
Your donation helps support this site
Cloud Height:

227 ft

HIGHS:
LOWS:

104.7°F


7/23/2012

-19.7°F


1/30/2019
Daytime Records

93.9°F


7/23/2012

-11.9°F


1/30/2019
Nitetime Records

85.3°F


6/28/2012

-14.4°F


1/30/2019
ICN:13 | S3C2:1

| Ajax 3.xx


ISS:Ok |

Saturday


Areas Of Blowing Snow

1 Rain season: Jan 1st to Dec 31st. 2 Snow season July 1st to June 30th. 3 Snow manually measured usually around 7AM and 7PM. 5 Estimated amount of water needed to replace the water used by plants and evaporation from the past week. (Negative numbers mean amount of water needed, positive numbers mean excess water is present). 10 Historical average only to day 17 of just the month of January for this station since 2011. 11 Historical average rain this season to day 17 of January for this station since 2011.
NWS Weather Forecast - Outlook Tonight & Saturday
Tonight


Freezing Drizzle

Lo

17 °F ↑

NWS forecast: Freezing drizzle before 1am, then widespread freezing drizzle and a chance of snow between 1am and 2am, then snow likely and areas of freezing drizzle. Cloudy. Low around 17, with temperatures rising to around 25 overnight. South southwest wind 9 to 18 mph, with gusts as high as 29 mph. Chance of precipitation is 90%. New snow accumulation of less than half an inch possible. Little or no ice accumulation expected.

Saturday


Areas Of Blowing Snow

Hi

20 °F ↓

NWS forecast: Areas of blowing snow. Partly sunny. High near 20, with temperatures falling to around 8 in the afternoon. Wind chill values as low as -14. West northwest wind 24 to 30 mph, with gusts as high as 46 mph.
NWS Short Term Weather Forecast
Saturday
Night

Patchy Blowing Snow then Mostly Clear

Sunday


Sunny

Sunday
Night

Partly Cloudy

M.L. King
Jr. Day

Mostly Sunny

Monday
Night

Mostly Clear

Tuesday


Sunny

Tuesday
Night

Mostly Cloudy

Lo

-6 °F ↑

Hi

2 °F ↓

Lo

-10 °F

Hi

5 °F

Lo

-10 °F

Hi

22 °F

Lo

15 °F

Severe Thunderstorm Forecast
SPC Day 1 forecast Meso Discussion Severe Watches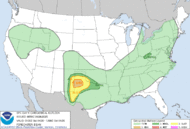 Fire Danger Index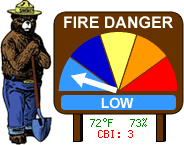 US Surface Map